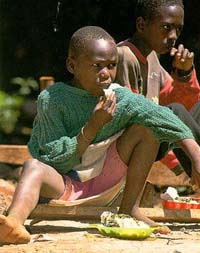 Koinonia for the street children

The Koinonia Community in Nairobi is made up of ten young Kenyans. Some of them are students, others work in the field of social communications and data processing, and two of them are full-time educators. All of them devote part of their time and salary to a project for street children. The aim of this project is to offer the children a place where, aside from learning how to read and write, they can have hot meals, wash themselves and wash their clothes, play and practice sports.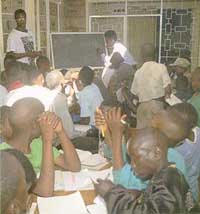 Adopt Kivuli

If you wish to do something for street children you can "adopt" the project developed in Koinonia. With 50,000 Italian lira, you'll contribute to the support and care of all the children living in the community. So this is not an individual adoption of only one child, but the adoption of the whole project "Kivuli". So no one child risks being excluded.
To "adopt" the Koinonia Project means to grant to all children who are asking for help the possibility to eat, to study and make positive choices for the future, experiencing the feeling of safety and love offered by adult care. In addition to a newsletter from the Amani Association, each three months you'll receive a letter from the person in charge of the project updating you on the progress of the programme and the condition of the children in Kivuli.